Promising Practices
Promising Practices is a collation and expansion of existing documentation on promising practices in interreligious dialogue. Our database offers guidelines and focuses on the concrete implementation of interreligious and intercultural dialogue practices around the world.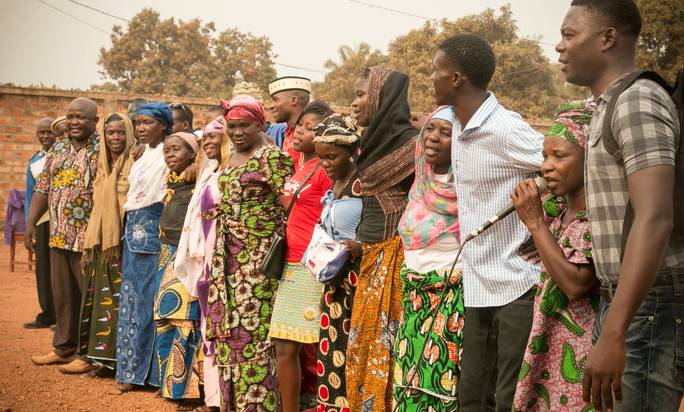 Describe your idea, or activity of an interfaith practice for others to replicate
SUBMIT
Disclaimer:
Through providing different aspects and ideas our aim is to compliment the great work that has been already done in the field of Interreligious and Intercultural Dialogue. Information and field data published in this resource are for informational purposes only, and neither KAICIID nor the Dialogue Knowledge Hub guarantee in any way success of the implementation of the activity.
While we wish all the activities and initiatives featured in this resource could be replicable in as many context around the world as possible, there are often certain limitations, such as the suitability for particular cultures or religious communities. However, there is always room to explore and adjust activities in regards to the community's environment.
Note: The content below is displayed with the most recent upload first
The practice of interfaith theatre can be utilized in different ways to suit the context of the subject matter in question. For example, one practice called Bibliodrama invites participants to understand and discuss the main religious figures present in the holy texts of a religion other than their own. Another form of interfaith theatre brings together youths of different faiths to act together in a play based in a zone of conflict between groups of different religions. Another example is "The Hindu and the Cowboy", which is a theatrical production created from the stories shared by the residents of Kansas City. It showcases how interfaith communities in a city do not need to be viewed as a 'melting pot', but rather as a mosaic, in which each faith has its own integrity and identity and contributes in their own way to the beautiful full image. Lastly, the "Theatre of the People" is a mobile theatre where people from different ethnic and religious backgrounds create and perform a play, and travel together for representations. Along with all the preparations and performances, the theatre troupe engages the masses through workshops in schools and public spaces, and promotes inclusion and reconciliation through art and theatre.
Read More
The practice of interfaith prayer is an initiative that can take place anytime, anywhere. It is especially appropriate when there is a natural disaster or tragedy affecting a community. It can also be used during times of peace. Interfaith prayers aim to emphasize the common values of the religions involved. It can also be used when and important religious leader passes away. This gives believers of different faiths the opportunity to come together in an act of solidarity and goodwill. Another form of interfaith prayer involves believers from different denominations of the same religion uniting for prayers at the same location and praying in the same language. This aims at compensating for reduced resources of religious minorities, while giving participants the opportunity to unite with people of different practices in a common prayer. An organization can also invite individuals to a gathering, where they reflect on scriptures from different religions. These workshops emphasize the similarities between religions, instead of just highlighting the differences. Interfaith prayers require a space where individuals can gather, regardless of their faith, to observe a moment of prayer, meditation, or silence, thus share a spiritual moment side by side. 
Read More